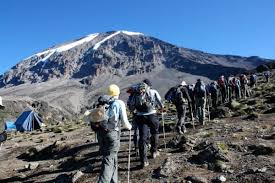 This 8 day tour (with 6 day trek) uses the popular and original route up to the summit of Uhuru – the Roof of Africa. There are wonderful views of the forested slopes and glacial valleys of this volcanic landscape. Accommodation is in shared huts with bunk beds and the ascent and descent are via Gilman's Point on the rim of the Kibo volcano.
Itinerary
DAY 1 KILIMANJARO – MOSHI/ARUSHA
Pick up in Kilimanjaro and transfer by road to Moshi and to Parkview Inn. For the semi-deluxe and luxury options, accommodation will be at Rivertrees Lodge in Arusha. Dinner and overnight.
DAY 2  MARANGU – MANDARA
After breakfast transfer to Marangu Gate to meet your guides and complete formalities before setting off on your Mount Kilimanjaro climb. A picnic lunch is taken en route and in the afternoon you arrive at Mandara Hut. A short walk can be taken to Maundi Crater in the afternoon. Overnight at Mandara Hut (Full Board).
DAY 3 MANDARA – HOROMBO
After breakfast, set out to Horombo Hut. The altitude gain today is significant and so a gentle pace is ideal to slowly acclimatise and avoid altitude sickness. By mid afternoon you reach camp and can relax. You have another night here to adjust to the altitude. Overnight Horombo Hut (Full Board).
DAY 4 HOROMBO (ACCLIMATISATION)
Today is essentially an acclimatisation day. To aid this you head out for the day on a hike to higher altitude which takes you towards the Mawenzi Volcano. If the weather is fine the views from the saddle between Mawenzi and Kibo are spectacular. Behind you the deeply eroded Mawenzi Peak is linked by a glacially smoothed saddle to Kibo, the main peak. The younger Mawenzi has been continually eroded for at least 400,000 years whilst Kibo has continued to grow and remains dormant to this day. In the afternoon you return to Horombo Hut to relax and have dinner. Overnight Horombo Hut (Full Board).
DAY 5 HOROMBO – KIBO
We make an early start to reach the final hut before tomorrow's summit attempt. Progress is slow in this hypoxic (low oxygen) environment but by mid afternoon you reach Kibo Hut to relax before the final ascent. A relatively early dinner is taken and then you can get some much needed rest before the departure to the summit late tonight / early next morning. Overnight Kibo Hut (Full Board).
DAY 6 KIBO – SUMMIT / HOROMBO
Rising early (normally before midnight) you start out from Kibo Hut towards the peak. At night the scree sections are normally much firmer giving the best possible conditions for a successful bid for the summit. It takes around six hours to reach Gilman's Point and then a further one and a half to two hours to reach Uhuru Peak, the highest free standing point in the world and the highest point in Africa. You then descend the same route before a short stop at Kibo Hut to refuel with food and rest. By the evening you descend back down to Horombo Hut for dinner. Overnight Horombo Hut (Full Board).
DAY 7  HOROMBO – MOSHI
The final descent takes you back through the heath zone and forest to the Marangu Gate. Here you are met by the driver and transferred back to Parkview in Moshi (standard option). For semi-deluxe and luxury options, accommodation at Rivertrees Lodge in Arusha for dinner and overnight.
DAY 8  MOSHI – KILIMANJARO
After breakfast transfer back to Kilimanjaro. Drop off at the international airport for your onward flight.